The pink bollworm has taken a toll on the fibre crop, even as new "mating disruption" technologies to control the pest are showing promise. -
---
September 11, 2023 The pink bollworm has taken a toll on the fibre crop, even as new "mating disruption" technologies to control the pest are showing promise.
The Bt revolution
Between 2000-01 and 2013-14, India's cotton production, in terms of lint, almost trebled from 140 lakh to 398 lakh bales of 170 kg each. So did the output of oil and cake to nearly 1.5 million tonnes (mt) and 4.5 mt respectively.
This was significantly enabled by Bt technology. From 2002, Indian farmers began planting genetically-modified (GM) cotton hybrids incorporating genes isolated from a soil bacterium Bacillus thuringiensis or Bt. The Bt genes coded for proteins toxic to the deadly Helicoverpa armigera or American bollworm insect pest. As the share of Bt hybrids in the country's area sown under cotton touched 95%, average per-hectare lint yields more than doubled from 278 kg in 2000-01 to 566 kg in 2013-14.
However, the gains didn't last. The charts show both production and yields falling after 2013-14, to 343.5 lakh bales and 447 kg/hectare in 2022-23.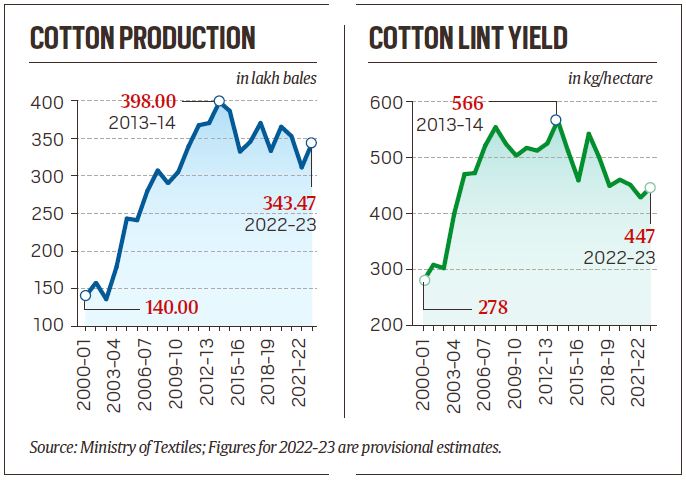 A different bollworm
The reason for that had primarily to do with the Pectinophora gossypiella or pink bollworm (PBW). The Bt toxins were originally supposed to provide protection against both the Helicoverpa and PBW caterpillars that burrow into the bolls or fruits of the cotton plant in which the lint and seeds grow.
Bt cotton has retained its effectiveness against the American bollworm. But in 2014, an unusually large survival of PBW larvae was detected on cotton flowers at 60-70 days after sowing in Gujarat. In the 2015 season – cotton is mostly sown in May-June, with the first harvest from around 120 days and 2-3 pickings or more thereafter every 25-30 days – PBW survivals were reported from Andhra Pradesh, Telangana and Maharashtra too. In 2021, even Punjab, Haryana and northern Rajasthan saw heavy infestation of the pest for the first time.
"PBW wasn't a serious pest previously. It typically appeared in the crop's later stages after the first picking, while confined to central and southern India. But now, the infestation starts as early as 40-45 days after sowing at the initiation of flowering," said Bhagirath Choudhary, founder-director of the South Asia Biotechnology Centre (SABC), a Jodhpur-based agricultural science organisation.
PBW is a monophagous pest that feeds mainly on cotton. This is unlike Helicoverpa that is polyphagous, with alternative hosts from arhar (pigeon pea), jowar (sorghum) and maize to tomato, chana (chickpea) and lobiya (cowpea).
Being monophagous enabled the PBW larvae to develop resistance to Bt proteins over time. This was more so, as farmers virtually stopped growing non-Bt cotton. The PBW population that became resistant from continuously feeding on Bt hybrids, therefore, gradually overtook and replaced the ones that were susceptible. The pest's short life cycle (25-35 days from egg laying to adult moth stage), conducive for it to complete at least 3-4 generations in a single crop season of 180-270 days, further accelerated the resistance breakdown process.
Controlling the pest
The conventional route of spraying insecticides – such as profenofos, chlorpyrifos, quinalphos, emamectin benzoate, chlorantraniliprole, indoxacarb, cypermethrin, lambda cyhalothrin, deltamethrin and fenpropathrin – has had limited efficacy against the PBW larvae. These feed on the cotton bolls as well as the squares (buds) and tender flowers, affecting lint quality and yields.
An alternative approach has been "mating disruption". It involves deploying Gossyplure, a pheromone signaling chemical that is secreted by female PBW moths to attract male adults. In this case, the pheromone is artificially synthesised and filled into pipes or lures. The male adult moths are, then, attracted towards the lures and do not mate with females during their 7-10 days time. In the event, eggs aren't laid and they don't grow into larvae (which feed on the cotton plant parts), before pupating and becoming next-generation adults.
The Central Insecticides Board & Registration Committee under the Agriculture Ministry has approved two mating disruption products – PBKnot and SPLAT – for controlling PBW. PBKnot is a dispenser having a 20-cm hollow polyethylene pipe, into which 140-160 mg of Gossyplure is impregnated. Each such "rope" that is tied to a cotton plant can release the pheromone over a 25 square-metre area. It translates into roughly 165 PBKnot-tagged plants every acre.
"The ideal time to tag is 40-45 days after sowing just when flowering commences. The pheromone gets released from the dispenser's nano-size pores over 90 days, by which time the farmer would have harvested two pickings and the scope for infestation is minimal," explained Chaudhary.
SABC has been conducting field experiments of PBKnot technology – sourced by the Gurugram-based PI Industries Ltd from Japan's Shin-Etsu Chemical Company – during the last three seasons from 2021. "We have demonstrated a reduction in PBW mating by up to 90%, resulting in 25% higher kapas yields," claimed Chaudhary.
SPLAT-PBW, a flowable emulsion formulation technology for delivering Gossyplure, has been developed by ISCA Technologies in Riverside (California) and introduced in India by ATGC Biotech Pvt. Ltd, Hyderabad.
The road ahead
As a crop cultivated in some 12.5 million hectares predominantly by smallholders – and a source of all three Fs – cotton's importance to India's agriculture and textile sector is obvious to anybody.
While Bt technology gave a huge impetus to production during the first decade-and-a-half of this century, the yield gains from it have been somewhat eroded by the emergence of new dominant pests, especially PBW. The threat of pest infestation has also discouraged farmers in states like Punjab from growing cotton.
It only highlights the central role that new technologies – whether GM, next-generation insecticides or mating disruption – will have to play in sustaining the cultivation of this fibre, food and feed crop.
---